Chelsea Clock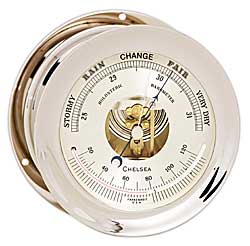 A Chelsea Clock is an exquisite time machine; each one an individual work of art, made by an elite group of master clock makers with the same relentless precision and craft for over 100 years.
Since the turn of the 19th century, Chelsea Clock has been deeply rooted in a tradition of keeping time at sea. Our nautical clocks have sailed the seas with the U.S. military and graced the ocean's most impressive yachts.
Born from a 115-year heritage of crafting fine maritime timepieces, Chelsea Clock nautical clocks offer extraordinary precision and durability.
Since 1897 – The finest clocks in America
Showing the single result
Showing the single result